Our Patented Suspension System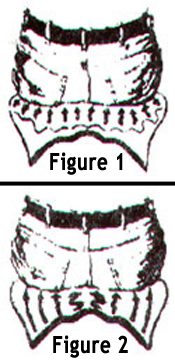 The wavy line in Figure 1 represents the suspension system in a Day-Long Touring Saddle. It's like a flat spring member lying crosswise under the Saddle and extending upward under the "wing" on each side. It supports the outer edges of your seat so some of your body weight is carried there on your outer buttocks. It automatically distributes your weight evenly over an area more than twice as large as other seats. That's fewer pounds per square inch, and support where you need it!
Figure 2 illustrates a seat made without the patented suspension system. The bent (compressed) arrows indicate that most of your weight is concentrated in a small area near the center of the seat. After an hour or so….ouch!…tailbone ache.
The Day-Long Guarantee
You can ride from one fuel stop to the next, fill the tank and do it all again, repeatedly, all day long! No stopping for relief of seat discomfort. And every morning you will be just as eager to ride as you were the first day. That's the Day-Long comfort that comes with every seat. Our Guarantee includes the following:
Any Day-Long Touring Saddle found not to provide satisfactory comfort after a break-in period of 500 – 1,000 miles may be returned for a full refund of the purchase price, provided only the Russell Cycle Products Incorporated (RCP) is allowed at least two opportunities to adjust the Saddle for any condition RCP deems correctable, and that RCP is notified of the Customer's dissatisfaction within a reasonable time (normally 90 days) after break-in is completed.
It's The Best Value
If a motorcycle seat is as good as claimed, it should be guaranteed like the Day-Long Touring Saddle!