Motorcycle Seat Color Chart
In an attempt to bring you our motorcycle seat colors, we have created a color chart. This color charts uses web-safe colors as we are trying to get as close as possible to the actual colors without using images, (because different monitors display image colors differently). We feel that this is the best way to display our colors on different monitors, so you know what color(s) to expect when your seat arrives.
You are not limited to the colors you see here. If you submit an order asking for other colors, we normally send out physical samples so you know exactly what your seat will be covered in.

Very Lt Gray
---

Light Gray
---

Medium Gray
---

Graphite
---

Black
---

Light Gray
---

Medium Gray
---

Graphite
---

Black
---
---
Sunbrella Acrylics
---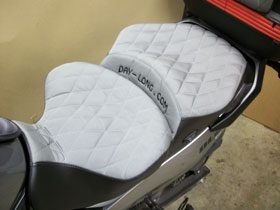 Looking for a cool, durable, tough, water resistant option to nylon cloth inserts. We may have the solution for you.
Sunbrella Acrylic canvas! Sunbrella is a breathable, durable canvas product that has been used in outdoor marine and awning applications for years. It is naturally water resistant(not 100% water proof) will not fade and has the durability for the dual sport enthusiast that likes to get off road. Sunbrella has no nap and therefore will hold you in the pocket and help eliminate slide forward problems. Sunbrella is breathable so when you park on a hot day your seat won't feel like a frying pan , nor will it be cold on those frigid mornings. Check out the Sunbrella Color Chart. Prices are listed with the nylon fabric prices.